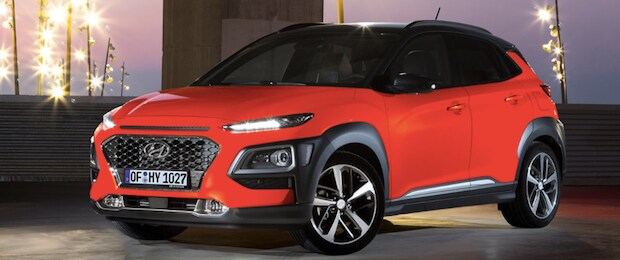 The 2018 Hyundai Kona–though scheduled to hit the U.S market in the first-quarter of 2018 –may arrive at certain dealerships earlier than expected. Some units may arrive before January!
Gas and Electric Combo
With environmental friendliness at the top of many American consumers' lists, the 2018 Hyundai Kona will not disappoint; as a long-range electric SUV with an aggressive body styling and wide stance, the Kona will get you where you need to go in style…and save you big bucks at the gas station.
What's it Packing Under the Hood?
The 2018 Hyundai Kona has a 2.0-liter MPI Atkinson engine under the hood; this baby produces 149PS and boats a 0-60 of just ten seconds with a top speed of 120 miles per hour! Just because it's fuel efficient doesn't mean it's fun deficient. From the long wheelbase to the short overhangs, the Kona delivers stability at high speeds.
What's it Look Like?
Performance may be great and all, but what's a great car without a great look…am I right? The Kona rocks an "armor" front and cascading grille flanked by wing-type fenders; it's clear that the 2018 Hyundai Kona was built with sport in mind.
As for the interior, the 2018 Hyundai Kona delivers best-in-class interior space. Over 13 feet long and 5 feet wide, the Hyundai Kona is ready to take the whole family plus the lacrosse sticks, soccer balls, and three pairs of cleats to every after-school activity! Furthermore, with advanced infotainment and connective technology, the Kona is here to keep you and your family entertained on those long road trips.
As we wait to find out whether your Hyundai dealership will receive this car earlier than others, feel free to check out some similar Hyundai models. We are anxiously awaiting the news!